Hello Gorgeous Reader!
If I were to describe the movie in one word; it would be... "
brilliant
"
Spoiler Warning
if you have not seen the movie yet because I may mention some key plot twists or what-not that may ruin your viewing experience. So here we go!
I left the cinema thinking 'OMG I think I need a therapist to debrief me from this movie'.😅 It's the kind of movie that leaves you speechless with a heavy feeling in your heart. To be honest I've previously written a whole review full of 'feels'. It wasn't until I watched the press interviews and the director's commentary that I finally understood 'the joke' that Arthur remarked "you wouldn't get it". (I'll get to that later).
It was a really good movie. Mainly because
Joaquin Phoenix's portrayal of Arthur was absolutely phenomenal. I say this because he was unrecognizable. I wasn't watching
Joaquin; it was a whole new person on screen.

I was genuinely scared of him in the movie that watching his movie promo interviews have me on the edge of my seat. 😆 The direction and production were also well done. Except maybe for a particular point in the movie where the background music was too overpowering that you can't really focus on the scene because there's like an annoying honking horn distracting you.
The plot blew me away. I had low expectations when it came to the plot because it's a DC film and I'm especially relieved that Joker's mother is not named "Martha"
😉
😅😆.
Let's address the plot. I have watched a lot of Youtube movie reviews, read a lot of rants and praises on social media about the plot. Arthur tells a convincing tragic story of a mentally ill man who is a victim of the unjust social system that pushed him into insanity and violence.
But let me explain to you why this movie is pure brilliance. At the very last scene of the movie, Arthur was being interviewed by a psychiatrist. The psychiatrist asked "What's funny?" He then answers "You wouldn't get it". You see, Joker is a con artist. In fact, the entire movie is... (wait for it).... a tall tale. Yes, people! The entire movie is an elaborate tall tale created for the pop-culture obsessed audience (that's YOU!). Arthur Fleck narrates a story that is literally lifted from other movies along with elements of modern real-life issues. Added with a couple of humorous scenes and ultimately tailored to be convincingly his own story.
Some of the movies that Joker incorporated in his tall tale are "Taxi Driver" and "King of Comedy" both starred by Robert De Niro. The fact that De Niro is in the Joker movie is already 'a massive clue'. Even Arthur's mom is named "Penny". Get it? "Pennywise" the clown! 😆 They also lifted plot twists from movies like "Inception" that leaves you wondering which scenes are 'real'; "Fight Club" with the imaginary girlfriend reveal and "Star Wars" with the Thomas Wayne is your father scene which I found really cheesy. 😂 There's probably more movie reference that I just didn't catch.
I guess the most controversial part of the movie is how it incorporated
real-life experiences of regular people (the audience). People who are frustrated of our modern society that lauds the rich and famous but neglects the people who live in poverty. It depicts the ordeals of people who are being bullied, who are battling anxiety, depression, trauma or mental illness.
The scene where Arthur is taking notes at a stand-up bar and mimicking laughter is comparable to the distress of people with autism such as Asperger's syndrome. Part of the reason why Joaquin Pheonix's acting was so convincing is the fact that he himself had gone through a traumatic experience with the loss of his only brother. That makes the movie so tangible and compelling
that it may thread too close to reality. Especially because the Joker uses the said experiences to justify his violent behavior and crimes. That is where the debate on ethics begins. The thought that somebody (with mental illness) somewhere (in possession of a weapon) would see this film and think "hmm Arthur is just like me" gives me CHILLLLSSS.
Now-a-days, people are too quick to react positively or negatively to any news without even bothering to check if it's true. A lot of people were quick to rant on social media about how the society neglects mental health problems and that our society today is unjust and cruel. That shows how compelling the movie was. Movie goers took the comic-book film about a fictional character as a real-life reference. The final interview scene itself is a parody of how gullible people have become. To believe in such a fantastic story that is somehow relatable. We've become a society of clowns; idolizing fake people, tuning into fake news, believing fake history articles. Clowns who deceive and are being deceived on social media. And that credulous characteristic is what will lead to our own destruction just like the psychiatrist at the end of the film.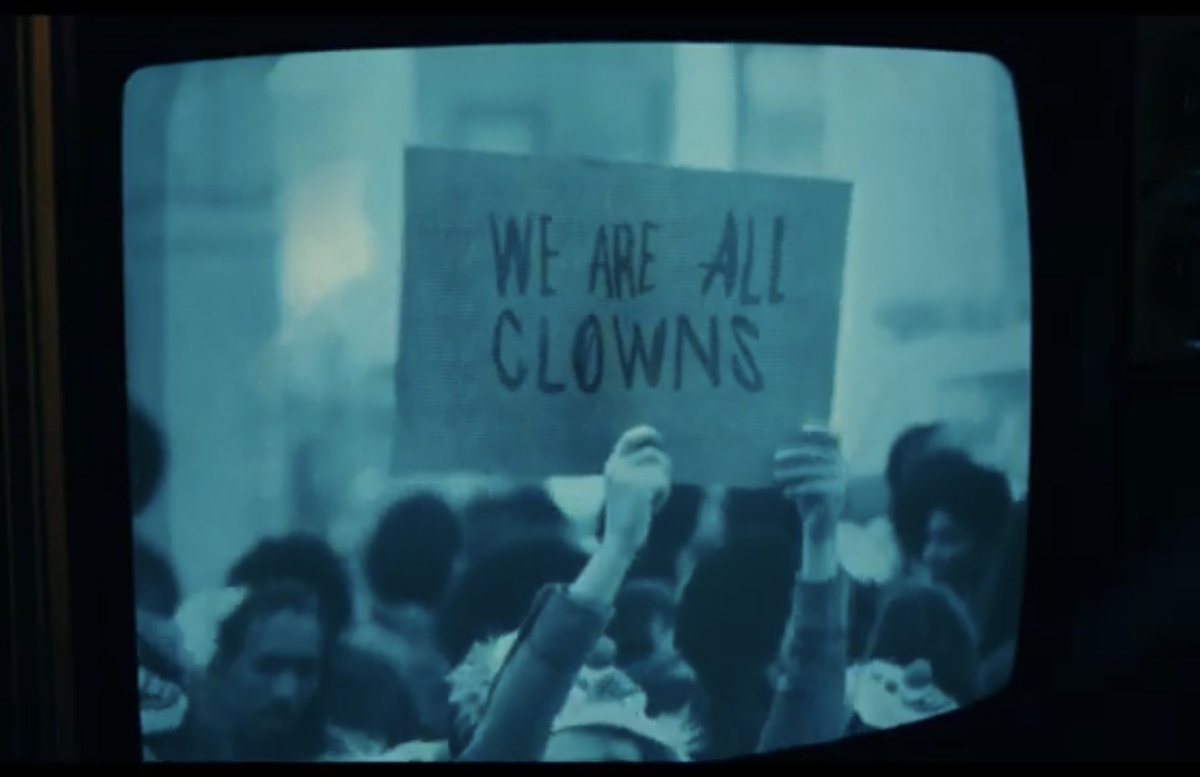 And THAT is the punch line; the brilliance of the movie. The joke was on us and "we still didn't get it".
To wrap things up; I'd say that "JOKER" is a well-executed and more importantly thought-provoking movie that re-invents the viewing experience; the best plot for a DC film I've watched and
Joaquin Phoenix's best portrayal by far.